Radio DJ Roman Kemp meets Rory O'Connor on his journey to understand young male suicide
By Professor Rory O'Connor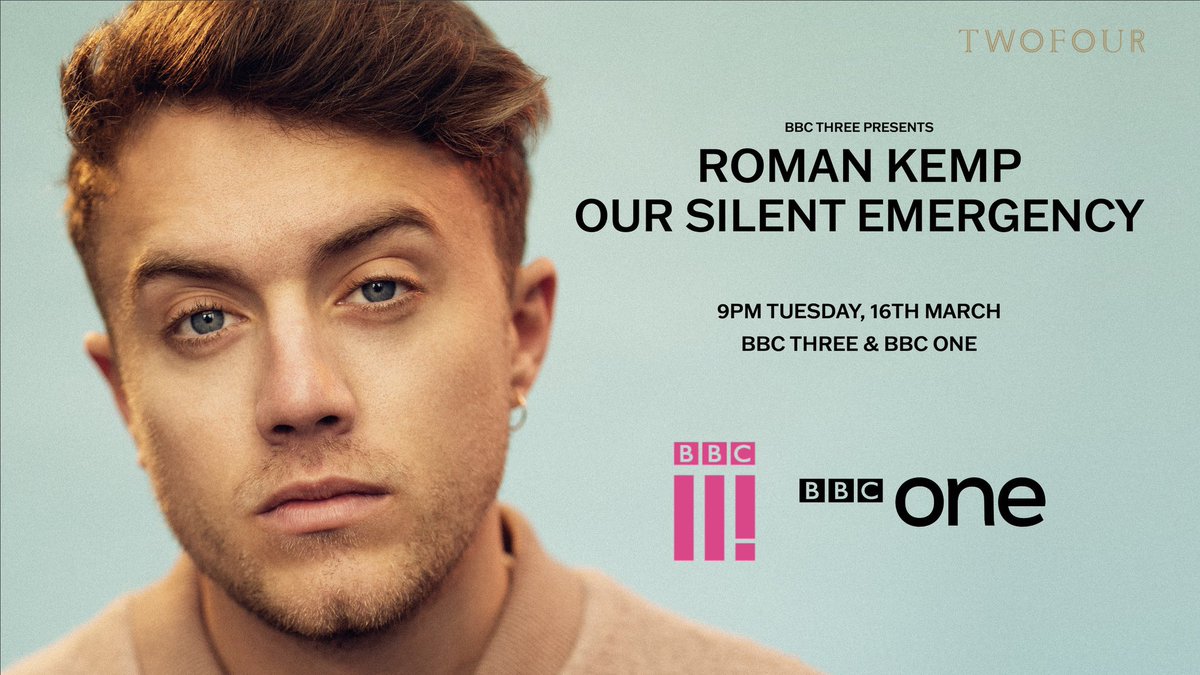 I had the pleasure of taking part in Roman Kemp's documentary Our Silent Emergency on mental health and suicide which he made following the death of his best friend and radio producer Joe Lyons. It will be broadcast tonight on BBC1 at 9pm as well as streaming on BBC iPlayer now.
As is always the case, 3 hours of filming was condensed into 3 minutes in the documentary. In those 3 minutes, I talk about the complexity of suicide, that people who die by suicide are usually trapped by mental pain, that they feel a burden on others. For around 6,000 people in the UK each year, this pain becomes too much and suicide is their desperate and permanent means of ending their pain.
Three quarters of these tragic deaths are by men, and in recent years, suicide rates have increased in the UK, including among young people. Many factors contribute to this sense of entrapment which can include early life trauma, issues around masculinity, loneliness, social disconnection, mental health problems, negative life events, alcohol and drug use as well as social disadvantage. Feelings of entrapment are triggered by feelings of defeat/humiliation, which are often associated with chronic or acute stressors and it is this sense of entrapment that drives the emergence of suicidal thinking.
From thoughts of suicide to suicidal acts
Thankfully, most people who think about suicide don't act on their thoughts, therefore, one of our challenges is to better understand who is at increased risk of attempting suicide or dying by suicide – so that we can help to keep as many people as safe as possible. To address this question, I developed the Integrated Motivational-Volitional Model (IMV) of suicidal behaviour which maps out the factors associated with the emergence of suicidal thinking and critically, those associated with an increased likelihood of acting on those thoughts by attempting/dying by suicide. The IMV model describes a group of factors called volitional factors such as having access to the means to suicide, having someone close to you who has died by suicide, impulsivity, past history of self-harm and fearlessness about dying which are associated with increased risk of people acting on their thoughts of suicide.
In the documentary, I also talk about safety planning which is a structured intervention co-created usually between someone who is suicidal and a mental health professional. Its aim is to identify warning signs as well as techniques to help keep someone safe.  Only a brief bit of my description of safety planning was included, so here is a list of the six steps of safety planning.
Safety Planning
Step 1: Recognising warning signs: warning signs that preceded a suicidal crisis should be explored collaboratively and compassionately.
Step 2: Identifying internal coping strategies: These are strategies an individual can use alone in order to cope better with suicidal thoughts/urges.
Step 3: Identifying people and social settings that can provide distraction: the aim is to identify people and social settings that can serve to distract individuals from their suicidal thoughts or urges.
Step 4: Contact chosen family/friends for support with suicidal thoughts/urges: identify safe and trusted people who the individual will feel comfortable disclosing their suicidal thoughts to.
Step 5: Contacting professionals for help: This is a list of professionals and agencies that the individual can contact when a crisis is developing.
Step 6: Making the environment safe: we really need to work collaboratively with the individual to remove or restrict lethal means of suicide.
Here's a clip of me talking to the British Psychological Society about safety planning.
You can find more details about one of our studies (the MQ-Research-funded SAFETEL study) on safety planning here and in my new book When It is Darkest.
There are also very helpful resources on the Staying Safe website developed by 4 Mental Health.
Roman Kemp has also written an article on feeling trapped by depression.
---
If you are affected by suicide or concerned about yourself or someone else the following organisations offer advice and support: